Skip to main content
PURE.
PURSUIT.
Quality time spent on the water with family is priceless. The ocean breeze, the sparkle of the water and sound of laughter, and a lifetime of memories. Whether you use your boat for cruising, fishing or watersports - you have the opportunity to enjoy your Pursuit and choose your own destination. Maybe you are a new owner or have had your Pursuit(s) for decades – either way we are happy to have you as part of the Pursuit family.
PURSUIT PHOTO CONTEST -
WINNER!
Alex Acunzo and his boat named Prosciutt!
"Safe and clean under the rainbow! This was the day after my wedding.
We all went out to celebrate on our S 328. A memory that will last a lifetime."
PURSUIT BOAT ADVENTURES
Bimini: Islands in the Stream
In May 2021, a crew consisting of Pursuit Boats' marketing team, famed photographer and videographer Marc Montocchio, prolific marine writer Kevin Koenig and a team of experienced captains and mates made the crossing from Ft. Lauderdale, Florida to Bimini in the Bahamas. The group made the voyage on Pursuit's flagship center console sport boat, the S 428 Sport. The boat was shadowed by Pursuit's photo boat, a 25' center console, affectionately named Frankenstein. The objective of the trip was two-fold. Pursuit Boats wanted to capture beautiful lifestyle photography and video to share with their followers and to secure a feature story in Power & Motoryacht magazine.

We've shared the feature story. Now we hope you'll enjoy the video.
OWNER NEWSLETTERS
THE CATCH
A newsletter for Pursuit Owners which shares resources, news, owner stories and tips!
MAINTENANCE TIPS
We've compiled a list of routine maintenance tips to keep your Pursuit in top form.
Enjoy!
PURSUIT RENDEZVOUS
"This was the day after my wedding. We all went out to celebrate on our S328. A memory that will last a lifetime.
Back home safe and clean under the rainbow."

Alex Acunzo
"We own our first Pursuit Sport 428 2022 boat and love it!!!
We are avid boaters. Have always owned large boats of another brand. But, our son has become very good as being captain of the boat so we switched to a sporty fishing boat. Pursuit was our #1 choice.
Put simply, we are always in search of a "Strange Pursuit". Just like our boat name, every time we take the boat out of the canal behind our beach home - we are headed towards an adventure.
Our boat is; a hobby, a passion, a lifestyle and how our family stays connected.
We love our "Strange Pursuit". (You can see the Blue Angels were flying during these photos)."

Christine Strange
"Teaching our 5 year old to fish. His biggest complaint were the fish were too big to reel in! Taken in Pensacola Bay, FL.
We love our Pursuit C 238 and take many family trips with our two kids. Our daughter always wants to steer and usually sits on my lap. This trip, we let her steer by herself for a short ride from the marina in Pensacola, FL, which made her entire day!"

Scott Eddy
"Loving the new S 288!!!
Our Maiden voyage was out of Mexico Beach, FL.
Caught loads of Red Snapper, our limit of Red Grouper and some short AJ's. Also had a keeper Cobia. Threw back several nice Gags. We love the boat and all the features. Our Pursuit is the S 288.
Looking forward to many limits and enjoyment of the new rig!"

Skylar Stahlmann Smith
"Thanks very much for the opportunity to submit photos for the Pursuit adventures contest! I took our C 310 From Wilmington North Carolina around to Elbow Cay Bahamas.  She performed flawlessly took about 19 days and covered nearly 2,000 miles."

James and Kristin McCarthy
"We absolutely love our boat…"Pilar". We purchased her in Sarasota and took her to Crystal River and spent the night then went to Apalachicola, Panama City then home to Gulf Breeze (Pensacola area). I can't tell you how many compliments we've had on her."

C. Linne' Carlson, Jr.
"We are an offshore fishing crew that competes in tuna tournaments in the NJ area on my 295 DC. We also film a YouTube channel called Gone Fishin' USA. When I was looking for a new fishing boat I had an unconventional list of priorities that lead me away from traditional brands like Contender and into a Pursuit. My boat needed to be fast but comfortable, stable in worse than ideal seas and as fishable as it is useful at the sandbar. We get lots of stray looks 100+ miles offshore in the Nj canyons, however the past three seasons have paved our spot and we are now a highly recognized boat who is welcomed by even the most crusty captain. We have spent many overnight trips and countless sunrises in the Chieftain and look forward to many more."

Nathan Bernhard
"I Belong Where Palm Trees Grow"

Leylani Rubio
Sag harbor, NY
"Labor Day Weekend with the family as they watched the sunset over Sandusky Bay.
Headed out of Put In Bay after another enjoyable weekend.
Good catch of steelhead on Pursuit if Freedom..."

Rob Maring
"This was running home from the Catawba Island boat show passing the Marblehead light on Lake Erie."

Jonathan Mack
John Caruso
"It was a calm November Sunday morning and I headed down to the boat to finish taking things off for Winter. It was such a nice day, I thought "why am I sitting in here when I could be out there? I bet my family would love some pizza". So I made the 19 mile jaunt over to Provincetown and picked up our favorite pies from Twisted Pizza.
That day was made just for me and my Pursuit!"

Tim Sherry
"Intracoastal Cruising ~ Hampstead, NC"

Tyler & ReBecca Poole
"This guy put in the time to catch and release this beautiful fish. Spent 6 hours yesterday and had nothing to show for it. Thanks to a hot tip from @cjb_fishing_longisland and some borrowed rigs from @schismi we got right on the fish today. Nonstop action all morning."

Richard Schiff
"2012 Pursuit OS 385. We bought her brand new in 2012. We have just about 1700 hours on her. Doing full Garmin electronics upgrade right now, she's good for another 10 years. This boat truly is amazing, I can fish early and late season with the enclosed helm and heat, and a/c during the summer. I love being the captain of this boat, I have my captains license but don't charter the boat. Enjoy the pics!
Jigging bluefin tuna.
Once the bluefin show up here in the northeast off Long Island, the bite heats up really quick. Trolling, jigging, popping, so many ways to catch them. This picture is from July 2021, Here we are on my 2012 pursuit OS 385 about 60 miles offshore jigging bluefin on the tuna grounds. Always getting the job done."

Brandon Weitz
"Little Tybee Island at low tide turns Into a beach paradise!"

Blake Meeks
"Naples to Key West Across the Gulf to Key West in a Pursuit S 288. The perfect all around do it all boat!"

Blake Meeks
"1995 hull still looks good. We fish all year round.
We drove all the way to Florida to pick up the boat from Vancouver Island.
We then put 2 brand new 150 hp outboards on.
The ride of this boat is second to none. The hull built in 1995 still turns heads.
My youngest son loves fishing and loves this boat."

Bernie Cordukes
"Florida Keys, January of 2022
Spent four weeks on the water hanging out, fishing, and relaxing on the water. Typically, we keep our boat in Grand Haven, Michigan, but we pull it down to Florida in the winters! With everything aluminum or stainless, there's no rust and no problems."

Hayden Latham
"Freshwater salmon, lake trout, and lounging with our dog Rosie in our new 2021 S 288 in Grand Traverse Bay on Lake Michigan last summer. Great family adventures on a very versatile boat."

Rod Bosma
"Great trip to Useppa… creating Pure Pursuit moments..."

Steve Biegacki
"First week out on my S 268.
I knew I had made the right choice of buying a new Pursuit boat.
On the first boating trip out we had a dolphin follow us in the channel and jumped around 10 times behind us. As you can see a butterfly really enjoyed the show.
Then offshore a few days later. Caught a really nice kingfish and had a yellow breasted bird ride on the boat for a few miles with us.
What a great new boat experience. In PURSUIT for sure!!!!!"

Hal Bock
"Christmas Celebration sunset on the bay with friends and of course our DC326 makes it all possible. Just aim her at the sunset hit Drift Point on Helm MasterEX and turn on Bing Crosby!!"

Charlie and Pixie Hoffner and their closest friends enjoying a sunset Christmas cruise on their DC 326
"Pursuit Offshore 325 Owner Artie DeMichael caught two Bluefin Tunas last month in the Same Spot - Five miles off the beach in Long Island, NY. Both weighed in at about 300lbs and were 70" and 72" respectively. Now that's a catch!"

Artie DeMichael
"Baby Jameson's first boat adventure Jameson loved his first day on this Pursuit DC 326. A four hour trip with a 90 minute break for lunch at a local waterfront restaurant. He was only nine weeks old for his maiden voyage. He loved it. Not one whimper. A future Pursuit owner indeed!"

Jameson
"Wonder Days enjoying our new Pursuit DC266."

Stuart B. Chandler
"My wife and I have lived in Kailua for almost four years and love it here in Hawaii! We have taken our adventures to another level with our 2014 Pursuit 345 Offshore! We purchased our boat last year and have enjoyed the new memories with our friends and those early sunrises on early morning fishing trips! We definitely have to give credit to our friends (particularly Bill Andras) that have taken photos with their phones to capture such great scenery here on the islands! A big mahalo to those friends for all the help along the way and to Pursuit for making such a beautiful boat!"

Photo Contest grand prize winner!
- Douglas Holke
"Whales jumping off Bermuda!"

Photo Contest runner up
- Doug Patterson
"Photo was taken off Round Island on the north side of Swans, Maine, near Swans Island and the Casco Passage."

Photo Contest runner up
- Douglass Compton
"Gulf of Mexico out of Orange Beach, AL., Chasing Storms"

Photo Contest runner up
- Brad Layton
"Greetings from Nicaragua!!!
This is my 2004 3070 offshore express"

Photo Contest runner up
- Dolce Vita
"I had the shakedown cruise experience of the century and I want to share what I learned. I recognize most of you are seasoned Captains and very experienced, so I apologize for reiterating some of the basics to you guys. I was scheduled to pick up my 2018 Pursuit 385 dealer demo on April 20, 2019 in Mattituck, NY and take it to Mamaroneck, NY. However since there was a gale warning that day, the Delivery Team strongly advised against it." Read full story

Nelson E. Canter
"We use the boat all around the Fort Lauderdale area. Fishing, sightseeing, sandbars and dock and dines. We use it for just about everything. It really is the SUV we need for the area we live. My favorite is the near nightly sunset cruise anytime the weather is favorable - a great way to wind down a home office pandemic day!"

Chris Nelson
"Targeting Red Snapper in 90 feet of water out of the Sebastian Inlet with my father and some friends on their 3070 Offshore, 3-4 foot swells typically would mean a rough day on the water. In three hours of fishing, we pulled nearly 100 Red Snapper off a patch of rocky bottom, ranging from under-slot schoolies to 32" studs. Of course we only kept what was allotted."

Daniel Colbert
"Always enjoy being on the water but nothing is better than greeting the sun as it comes up on the horizon. With my entire crew, Alan Mavretish, Matt Fedak and Cory Hedlund. Each who has attempted to capture the moment. This view gets the hull of the OS325 (Pursuit of Freedom)"

Robert Maring
"Our growing family uses our C180 almost everyday here in Milwaukee.
We got engaged on this beach and continue to make boating part of our family tradition!"

Rob and Heidi Curran
"This is our new-to-us '14 385 OS. We loved it so much, we had the shirts made before we owned the boat! This was the send-off cruise before I took her 120 miles offshore to Veatch Canyon for 6 yellowfin, 1 albacore and 1 white marlin. What a fantastic trip, can't wait for the next adventure!"

Tim Sherry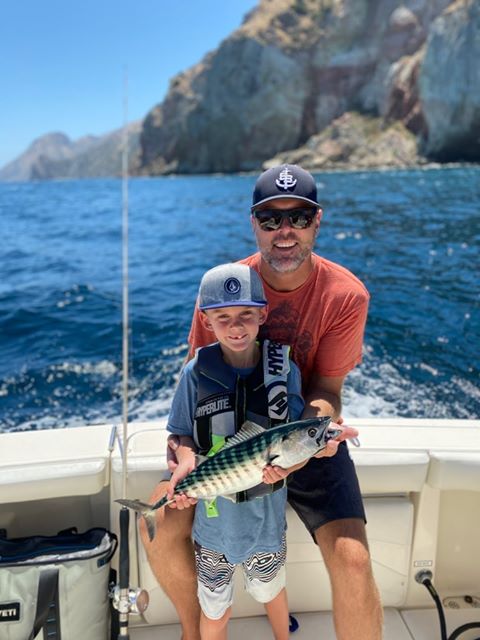 #PBTraditions fishing with the boys...double hook up. Front side Catalina Island on the Pursuit 3000 Express."

Rob Frizzelle
"I cannot share my Pursuit Boat traditions because my boyfriend Chris and I just accomplished our goal of buying our Pursuit OS325 on August 14, 2020. What I can share is my excitement to make many memories, traditions and adventures on our boat with our family and friends. We are so blessed to become owners of such a beautiful boat."

Misty Bartlett
SHARE YOUR STORY!
We want to share your experiences with your fellow owners as we grow our community and expand our Pursuit family.
Email mmorris@pursuitboats.com so we can share your experiences, photos or videos in our newsletter, website and social media.
PLACES TO BOAT & FISH MAP
FISHING LICENSE & BOAT REGISTRATION
---
This website uses cookies to ensure you get the best experience on our website.
GOT IT!