Skip to main content
PURE.

DUAL CONSOLE.
Dual Console Boat Series
PURE.
DUAL CONSOLE.
Dual Console Boat Series
PURE.
DUAL CONSOLE.
Dual Console Boat Series
Pursuit Dual Console Boat Series
The award-winning Dual Console Boat Series has been perfected by Pursuit. Stylish, comfortable and innovative features have been engineered to perfect your sport utility Dual Console Fishing Boat experience.
With lengths ranging from 24 ft. to 36 ft., the dual console boats - sometimes called a bowrider - most distinct feature includes a wide walkway path through the center of the boat with all the accommodations to the port and starboard side of the walkways. The large tempered glass wrap-around windshield with opening center glass and bow block-off door provides superior weather protection with climate control.
Known for versatility, Pursuit's family-friendly Dual Console Boat Series has a focus on social zones, and the layout allows for at least three main areas on the aft cockpit, bridge deck and bow area. Ride in comfort with the ability to accommodate more passengers. Larger models feature a cabin for overnight excursions and the head and resting areas are separated under the two consoles. Like all Pursuits, the Dual Console Boat Series is ready to fish with plenty of rod holders, livewells, fishboxes and tackle storage.
Whether you're looking for cruising, fishing or watersports, the multi-function Dual Console Boat Series is ideal for any experience on the water.
Brimming with standard features, our Dual Console Boats are in a class of their own.
Also available are many optional features so you can customize your perfect Pursuit Dual Console.
Build Yours Today!
---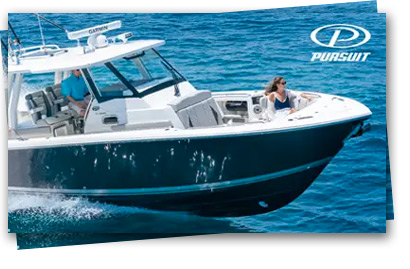 GET A DIGITAL OR PRINTED COPY
OF OUR 2022 MODEL YEAR BROCHURE
The 112 page full color brochure is perfect for viewing our full model lineup and learning more about Pursuit Boats. The glossy printed version also makes for a stunning coffee table book.
Request 2022 MY Brochure!
---
Pursuit DC 326 Pleasure Boat
06/08/2021
The DC 326 is an excellent boat for cruising, fishing and family. The seating, layout, ride and ease of boarding make this boat very enjoyable. The windshield integrated into the hardtop, A/C and heat, make for a very dry and comfortable ride in all types of weather. The Pursuit dealer made the sea trial and buying experience worry free, very professional and low pressure. The boat sells itself.
John S.
Perfection on the water!
05/10/2021
This is our second Pursuit. The boat is used in salt and fresh water. Everywhere we go people ask us where we purchased it and what is the brand. The ride and style have come from years of boatbuilding and it shows.
Frank H.
Pursuit of Happiness
09/15/2021
Everything was seamless with the purchase of my Pursuit boat from the passion and product knowledge from our sales person Todd at Bosuns to in the water hand over from Captain JR. We are very happy with the Quality and reliability of our Pursuit boat and hope to have many years of family fun. Thank You
JAMES K.
2021 DC 266
06/30/2021
Absolutely love of our 2021 DC 266! The design of this boat is perfect for our family with small children. I'm especially satisfied with the performance in big water. The DC 266 is the perfect size for easy handling, yet has a large, yacht quality feel. If you're considering this model, ask your dealer for a demonstration and I'm sure you'll look no further!
Anonymous.
Great Boat!
03/03/2022
This is my first ocean powerboat, and I couldn't be happier. It's both attractive and incredibly well built. We use it as a family runabout in the bay. The kids love being up in the boat and the adults hang out and enjoy being protected, warm and dry in the helm area and stern. It does exactly what we were looking for and has the sea worthiness to give us confidence out in the Maine summers, which can bring almost anything.
Anonymous.
Pursuit 326: best multi-purpose boat I have seen
07/04/2021
It's said that boats can only do one thing well- either fish, fun, speed or comfort. The Pursuit proves this to be a myth. Boat seats 10 adults no problem for a sunset cruise, cockpit is super dry and comfortable in any weather (get the heat and AC), and it fishes extremely well. Every feature is well thought out, and the fit and finish is top quality. I had been concerned about storage but there is plenty of it once you figure it out. Machinery and systems are clearly marked and accessible.
Brian F.
DC 246
03/20/2022
Boat is a solid build. Handles well in tight quarters and in rough water. Electronics - Navigation and stereo are high end and intuitive to use. Yamaha 300 performs well. Boat design has ample seating and good "conversation areas". Boat has exceeded my expectations.
WAYNE F.
Loving it
06/06/2021
It is a new boat for us and our first boat. The DC 235 is gorgeous, ready for anything, and a great first boat for our family. We're looking forward to many great days and evening out on the bay on our Pursuit.
Briton V.
Pursuit DC 246, our first boat.
08/01/2021
We were looking for a boat that the family can enjoy. After speaking with family and doing online research, we learn about Pursuit boats. Legendary Marine in Pensacola was very helpful and our sales person, Sean was incredible. He demonstrated a wealth of knowledge about the brand, was very patient with us. He took us for a test ride. He also suggested we trial other brands and we did. This boat is solid, very well thought out, attention to details, performs really well. We're very happy.
PABLO C.
A really great boating experience
12/10/2021
I am extremely satisfied with my new pursuit 246. It has far exceeded my expectations. I wanted more protection (weather wise) than a center console , didn't need any overnight accommodations, and wanted a big open cockpit and bow riding features. This boat does it all! Seems extremely well built and easy to operate. I'd definitely recommend the dealer ocean blue to anyone as they were super easy to deal with. Also their service center for periodic maintenance is outstanding!
Peter S.
Awesome Boat
04/26/2022
I've had our new DC326 for just a year now. It is a 2022 model. We absolutely love the boat. we mainly use it for cruising the ocean and typically in the winter months. We love the fact that the cabin is heated and air conditioned. It is so easy to maneuver in and out of the bays and docking. We would definitely recommend Pursuit to our boating friends .
STEPHEN W.
Pursuit 235 DC
03/27/2021
We purchased a new Pursuit 235DC from Quality Boats and could not be happier with a boat that fits our needs and beyond. The fit, finish and ride quality are outstanding. The dealership was a true pleasure in the whole buying process. Great experience!
CHRISTOPHER R.
Excellent product, grade quality, fish as a yacht
04/27/2022
I have owned my Pursuit 246 DC for almost 1 year now. The termination and finish is of great yacht quality. I have shop for boats for sometime and once you have been on a Pursuit boat, the bar is set very high. The same goes for the quality of the ride and handling. We use the boat frequently in the bay, intercoastal waterways, and the gulf when the weather is nice. I am very happy with our boat.
PABLO C.
Worth Waiting For
09/14/2021
I've wanted this boat since I first saw it at a boat show when it was launched. I thought I could buy it used when I was ready but no one wanted to give theirs up. I finally made the decision to buy new. I am beyond thrilled with the looks and performance of this boat. Sometimes you want something for so long and then when you get it you are underwhelmed. That is definitely not the case with my Pursuit DC295. I am beyond satisfied.
Alexander S.
Rugged yet agile best in class hands down!
01/25/2022
We've owned many boats over the past 30 years and can confidently say Pursuit checks more boxes than any other manufacturer. Their boats are consistently built to high quality standards which has given us confidence to tackle unexpected foul weather while cruising the Great Lakes. Our 2021 Pursuit 326 DC is very versatile, which is important when dealing with a large family with many different boating interests spanning from fishing, day boating or sunset cruises. The ultimate on the water SUV!
Peter M.
Best all round boating
01/31/2022
Bought our DC 365 sight unseen to Australia . Absolutely love the boat , perfect for cruising , fishing and a great party platform .
Ian P.
Riding in Style
04/20/2021
Everywhere I go, people compliment about how beautiful the DC235 is. I'm really glad I purchased such a distinguished looking vessel.
THIERRY B.
Pursuit of Adventure
05/21/2021
We enjoy the versatility of our new Pursuit DC 266. As new boaters, we have been able to experience water sports, fishing, and just relaxing onboard with the lounge chairs and dining table.. It has been a good choice as newcomers.
Michael R.
Exceeding Expectations
03/11/2021
We purchased our new 2021 DC326 at the Ft Lauderdale boat show and took delivery in February and have not looked back! The communication from the associates at Pursuit during our build was incredible. Once delivered the delivery session on water with dealer was very good. The fit and finish is the best I have seen. The ease of learning all facets of the boat was amazing and all part of the Pursuit experience. This has definitely exceeded out expectation.
CHARLES H.
Pursuit of Pleasure
12/28/2021
We are thrilled to be the proud owners of a new Pursuit 266. This boat has exceeded our expectations in dependability, stability, quality and overall fun on the water. It checks all the boxes for us!
Murdock S.
Pursuit a step above.
01/03/2022
I am so satisfied with my new Pursuit 235DC. It rides like a 27 foot boat. Incredibly stable, secure and agile. It feels like quality and incredible attention to detail throughout. A really quality product that I highly recommend.
CHRISTOPHER R.
Seamless
06/14/2021
Best large purchase experience of my life. A great product purchased with extraordinary assistance from both the sales rep (Chandler Hansen), the dealer (Quality Boats), and the manufacturer.. Factory tour was not only interesting - but would have removed any questions about quality of construction if I had any. And periodic photos of my boat during the construction process was a first class touch.
CHARLES B.
Great Boat
03/13/2022
We purchased a 2022 Pursuit DC226 from Walker's Marine on Marco Island, FL. Our purchase experience has been outstanding. We took the annual tour of the Pursuit factory before placing the order. The tour convinced us of Pursuit's commitment to quality. We have operated the boat for 125 hours with no problems. We are very happy with our new DC266.
THOMAS R.
The best there is
03/21/2021
Quite simply the best boat you can buy. From ride, to styling, to safety; Pursuit is second to none.
Paul M.
Nothing better than a Pursuit
09/24/2021
I love the versatility of my boat with smooth cruising and it's very quiet Yamaha engines. My third Pursuit and I have never been disappointed! Thanks
TIM R.
My Pursuit has it all!!
04/11/2021
I purchased my second Pursuit recently (DC 266) and could not be happier. I have both older and younger kids and we need to balance Cruising, Tubing / Skiing, and Fishing. This boat accommodates it all!! The performance, handling and comfort is tremendous! I could not be happer with the overall genuie quality of houw this boat is built. I have owned and participated in many boats in my life and the Pursuit quality and performance in top notch!
JAMES P.
DC295 review model year 2022 with joystick
03/16/2022
I am a previous owner of a DC266 model year 2020. The resale value was exceptional on this boat! I received within 5% of what I paid . Owned it for two years. The DC295 with its twin Yamaha 300HP's made a world of difference getting to our destination point. The quality and refinement of this boat far outweigh's the Grady White and Boston Whaler. Couldn't be happier!
GARY B.
Pursuit 326 DC
06/30/2021
We love our Pursuit 326DC. Great boat that can do so many different things. Having a great time, Fishing, Island Hopping and relaxing at the sand bar! Should have switched to Pursuit earlier!
Matthew W.
Love our boat
09/08/2021
We have had several boats and been on several friend's boat. The quality of our Pursuit DC 266 is better then any boat we have been on. We are gone more places, and using our new boat more then we did with our old boat.
ROBERT M.
My DC 295
10/30/2021
This is my 4th new boat purchase and I am happy with my decision to go with Pursuit. Although I only have the boat for about 3 months it has filled all my expectations. The design and comfort of the duel console are the best of my other considerations. The sales and service departments of Strongs at Al Grovers in Freeport, NY were the best throughout the whole experience and they followed up concern on calling to make sure I was happy with my boat. I highly recommend Pursuit and Strong's Marine.
SALVATORE P.
Pursuit embraces innovation, quality and style
01/19/2022
This is my second Pursuit DC. Love the boat and Blue Ocean has been great to work with. My new DC326 Accommodates our family well. It has performance and style together with comfortable, safe features for my grandchildren when aboard. Pursuit found the sweet spot with this boat!
Ronald H.
Great performing boat
10/17/2021
I have always heard good things about the quality of Pursuit boats and have been extremely pleased with the design and quality of the dual console I purchased. It was delivered in "full" working order and I've had no issues with it during my first year of ownership. It runs well, looks good and most important is a comfortable and very safe boat to operate.
Charlie C.
What are you waiting for?
01/17/2022
I just purchased a new Pursuit 266DC and could not be happier with the boat. Overall quality is above reproch, fit and finish are 5 stars. Csockpit layout is versitile and meets family boating and fishing needs with little if any compromise. You are missing out if you don't visitk your Pursuit dealer and get a new boat for your slip.
ROBERT G.
Very satisfied
03/20/2022
After thoroughly researching several premium manufactures I decided on Pursuit and to date my expectations of the product, sale and service have been exceeded.
Anonymous.
Great boat!
07/24/2021
We love the DC295! It meets all our needs perfectly as we regularly cruise the intercostal and take the kids out some on deep sea fishing trips
JOSHUA T.
Great boat
04/12/2022
The Pursuit 295 DC is a very solidly built stable and fun boat to own and operate. Nice to be able to use the whole boat from the bow to the stern. The hardtop is good for shelter from the sun. I can't say that there are many improvements are needed.
DENNIS C.
Best Turn Key Service
06/14/2021
Absolutely love the Pursuit DC326 and the team at Legendary made the entire process from beginning to end a pleasure. Look forward to many years of enjoyment and probably the upgrade in the future.
BENJAMIN W.
WORTH EVERY PENNY DC266
03/31/2021
The quality in this boat is noticed everywhere. From the fit and finish to schematics of boat systems is impressive. Through a Pursuit factory tour, I was able to witness first hand the culture of quality control. By keeping work in-house, the reach of quality control goes beyond most manufacturers. Moose Landing Marina and Moosehead Marina, both in Maine are terrific. Speak to Will Monson or Mark Gilbert Jr. and you will be as pleased as I am.
Donald B.
The Pursuit of excellence.
03/10/2022
.From learning about Pursuit boats, ordering my Pursuit DC 266, my factory tour, receiving photographs of my Pursuit boat from the factory customer service department almost daily during construction, taking delivery and having my sea-trial and on board orientation, reviewing and becoming familiar with the Owners Manual, and then having all of my very high expectations exceeded in terms of performance, comfort, handling, ergonomics, electronics,, and versatility - AWESOME!
CHARLES B.
Pursuit DC 266
08/11/2021
Great all around boat. Quality materials used, great ride. Checks off a lot of boxes for any activities for a day out on the water.
MARK A.
Stunning Vessel
07/11/2021
Everything my family wanted and more! Large enough and elegant enough to entertain family, friends, and clients while maintaining all the functionality of a well designed fishing boat. Details, details, details...that's all this boat is about and they've pretty much thought of everything.
Charles A.
Pursuit DC 246
10/11/2021
The dealership did an excellent job working through the details of ordering the new model DC 246. I took a tour of the Pursuit manufacturing plant and it was a great experience. Very knowledgeable and friendly staff throughout, clean well organized plant and a really well engineered product. It's very evident how well these Pursuit boats are built when you see the individual components throughout the manufacturing process. Great experience !
John E.
Outstanding Boat and Performance
01/31/2022
The Pursuit DC 365 is the perfect all around family boat. This boat is great for fishing, pleasure riding or water sports. Handles very well and does well off shore. It was the best fit for my family as I wanted a center console and my wife wanted a bow rider. This fits both and is comfortable to stay on over night. We take trips on it as well and it is very comfortable. Better than a center console you can get out of the elements of the weather.
David P.
World Class Support and Design
12/06/2021
Our Pursuit DC326 was our third boat in 18 months and first Pursuit trying to find the perfect match of style, design and performance. More importantly we were looking for a company to partner with, that when and if there were issues they would support us 100% without question. The team at Pursuit has met and exceeded our expectations. Thank you!
CHARLES H.
Previous
Next
Dual Console Boat Articles
COME SEE YOUR NEXT PURSUIT DUAL CONSOLE BOAT!
Contact your factory authorized Pursuit dealer.
Find Your Dealer!
This website uses cookies to ensure you get the best experience on our website.
GOT IT!